Last week, I briefly mentioned that I finished reading The Help and that I had some thoughts to share on the book.
Since then, I've avoided writing this post...not because I don't wish to be transparent, but rather because it is so painful for me to do so. Change is painful. But true growth requires us to change.
So taking a deep breath, here I go...
As I read
The Help
, I couldn't help but make comparisons of women in my life who seem fascinatingly similar to the main characters in the story.
Not in a "we've got domestic help" and "we're opposed to civil rights legislation" sort of ways, but rather "I've got strong opinions and I'm not afraid to share them" sort of ways or "I haven't formed my own opinions and I'll defer to yours" sort of way.
That would be me. The latter. At least all through high school and college.
Now, as a 40+ woman, wife and mother to three, I tend to have more strongly-formed opinions that are my own...not of my friends... on all sorts of issues including politics, religion, and parenting. But, unfortunately, like Elizabeth Leefolt, one of the white women in the story, who to be clear, is a villain, I too am often fearful to go against the grain...to differ with the friend who speaks the loudest...even if she's the wrong-est...and so I seldom
voice
those opinions, even when I know that what I believe is the
Truth.
Why am I like this...I'm sure there's some pop-culture psychologist that would love to dissect my personality, but suffice to say that after having lived with myself for 40+ years, I know that I aim to please...I am the great compromiser...I dislike conflict.
But what I am learning as I "grow up" is that sometimes, pleasing and compromising can be destructive...even detrimental to one's self...and
soul
, and that conflict is sometimes a necessary evil. Especially, when we are called to defend the
Truth.
So what does all of this have to do with St. Peter?
Well, like St. Peter, I have a deep and profound love for our Lord. And like Peter, I have lied to myself and our Lord that I would
never
deny HIM.
So what happened that would make me compare myself to both Elizabeth Leefolt (a wishy-washy white woman who desperately wants to fit in with the Junior League crowd, hiring help she really can't afford and fearing retribution from her "friend", Hilly, who she has seen unleash her wrath upon enemies) and St. Peter (who Christ himself called to be one of His own and yet denied knowing Him)?
A run-in with the parent of my 7-year old daughter's friend.
It happened last Spring. And my cheeks still burn hot with shame when I replay the events of the day as they unfolded on our front porch and then kitchen.
My daughter, longing for a playmate, quickly befriended the daughter of a new neighbor that had moved in across the street. The girls were in the same kindergarten class, and were in close proximity in the subdivision, so fast friends they became. Over the course of Winter and early Spring, I began to suspect that the little girl's family was not religious or even believers in Christianity. My daughter would often speak about Jesus or Mary or going to Wednesday night religion class and the other child would stare with wide-eyed amazement and sometimes ask questions. I either let Mary answer them in her 6-year old speak, or I would simply respond with a statement to satisfy curiosity, but not "evangelize" her against her parents' wishes.
Well, one Spring afternoon, a very angry mama showed up on my front porch after walking my daughter home from a play date that had been cut short. Imagine my surprise when I learned that it wasn't my daughter's behavior that ended the play date, but rather the fact that she had told her daughter about Jesus.
"And she was having none of that."
Gulp.
And what did I do...hold on to your hats...
I APOLOGIZED to her for Mary upsetting them and then told my daughter NOT to speak about Jesus when she played at their house.
I "went along" with the loudest, wrong-est person out of fear of retribution, and then went on to "deny" our Lord by asking my daughter not to speak of Him.
And then I cried. For I knew the error of my ways.
And then I called my sister ranting and raving about the nerve of that woman.
And I cried.
And then I called my husband ranting and raving about the nerve of that woman.
And I cried.
And then I called...
Well, you get the picture.
So, how did I rectify this?
First, I sat my dear daughter down in our kitchen and explained to her that sometimes grown-ups make mistakes.
Even mommies.
And that while I had told her NOT to talk about Jesus over at her friend's house, I now realize how wrong and confusing that directive was and instead, wanted her to speak whatever she felt convicted of...in not so grown-up terms. ;)
Then, I went to confession.
And I cried.
And I was forgiven for my shortcomings.
And while my soul was cleansed and absolution given and penance completed, my heart still felt heavy.
It still feels heavy. But not
as
heavy.
For I am working on developing the confidence necessary to speak the
Truth.
In little ways..
I am praying for courage...one of the Cardinal Virtues...
I am forcing myself to act courageously, even if I don't feel that way inside, in front of my children...
And I am praying for and forgiving the parent that caused me so much angst...and in fact thanking her for challenging me in my faith walk.
Because it is
easy
to be a Christian among other Christians when your biggest argument is whether your religion "worships Mary" or whether Christ is truly present in the Eucharist versus whether or not God exists and why secularism and relativism shouldn't be our new gods...
That my friends, is
hard
. Especially, since we live in an era where tolerance is expected of
everything
, even the denial of
Truth.
And so like Elizabeth Leefolt, who in the end still fired her black maid, but would not file charges of stealing against her (a small victory in terms of personal growth for Elizabeth),
and like St. Peter who, although bitterly sad and repentant, did not beat himself up to the point that he was no longer a follower of Christ, but rather rose to the occasion and accepted Christ's command to build his Church,
I too hope to grow and change...becoming stronger in my faith...not only by keeping His commandments and completing good works, but by allowing the power of the Holy Spirit to stir within me the courage necessary to speak
Truth
and model
Truth
for my children.
Because after all,
change begins with a whisper
and that might be the best place to start before I can yell it from the mountaintops.
Today I am linking up with Ann over at
A Holy Experience
for her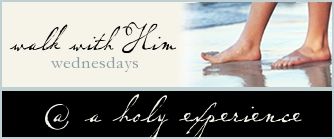 and Courtney
over at