Today I am linking up with Ann at
a Holy Experience
for Multitudes on Mondays as well as with Monica over at
the Homespun Heart
. These two gals are just a couple of my favorite bloggers in blogland. There are certainly more of you, but these two hold delightful linky parties!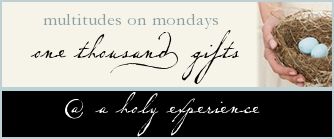 Last Fall, Monica hosted "Make Your Home a Haven" week and I thoroughly enjoyed it. In fact, after spending a week really focusing on the many little ways that I might make my home a haven for my family, I was moved to rename my blog
her Little Ways
to remind myself how to do ordinary acts (laundry, meal preparation, parenting, etc.) with extraordinary love, just as beloved St. Thérèse of Lisieux. It can be no coincidence that I discovered St. Thérèse at the same time that I discovered Monica's blog. It can only be a God thing!
So, here are a few things I did last night in order to make my kitchen (the heart of any home!) a haven for my family this week...
Okay, admittedly the coffee pot is for me, but oh how this little step of prepping the night before allowed me to wake up in such a happy mood this morning! Now...I just need a programmable coffee maker!
For my little man, I prepared breakfast the night before. Lately, our routine has been to get up and nurse then get myself and the older two ready for the day. By the time we all head downstairs for breakfast, Luke is more than ready for his solids. Usually, I'm doing some mad dash trying to fix eggs, Eggos, etc. for the older two while mixing up rice cereal. And since I've been disorganized of late, I've run out of frozen pumped milk and have resorted to formula. *ugh* Next thing I know, rice flakes are flying and formula is dripping all over the counter top. Not a conducive way to start the day! Today, it was so nice to just add water, shake, pour and stir. Little man ate at the table in his high chair with us. It was a lovely way to start our morning...which included saying Grace!
Last night, I stayed up late cleaning, decluttering, and organizing so that my kiddos might wake up to this! I set the table for breakfast the night before and even though our meal only consisted of orange juice and toast with peanut butter, eating off of pottery and drinking out of glasses seemed to set the tone for good table manners. Breakfast was such a joy today, and Mary especially loved the little added touch of flowers and candlelight at the table!
Finally, this is what greeted me when I came downstairs this morning. I stayed up extra late last night to get my kitchen ready for the morning. Counter tops decluttered, dishwasher loaded/run/unloaded the night before, sink scrubbed and ready for a new day! Our kitchen had such a calming presence this morning...especially important since this room opens directly to our family room...it's basically one long room at the back of our home! No hiding the mess here!
So to express my thanks to God above for all that he has blessed me with, I am appreciate of the following...
#31 French Vanilla coffee creamer
#32 Hot coffee first thing in the morning!
#33 A wonderful, sturdy, and beautiful home. It may not be the largest on the block or the most professionally decorated, but it is our "home".
#34 Blog friends that host fun parties for us to connect with each other.
#35 Lives of the Saints who have gone before us and show us an incredible love and dedication to our Lord.
#36 St. Thérèse of Lisieux
#37 The last day of February...hooray! March 1st is "unofficially" Spring in my book!
#38 The invention of the flat iron when I can do nothing else to control my daughter's unruly waves.
#39 Mary, Ben & Luke
#40 Neighborhood friends who check up on me and help me out in a pinch!
Please come back later this week to see some other
Little Ways
that I make our home a haven! Blessings!