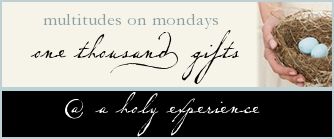 Welcome to Multitudes on Mondays hosted by Ann at
a Holy Experience
where we share those little things in life that matter most...and that are true Gifts from the One Above.
#21 The occasional Midwestern blizzard which requires us to slow down and help our neighbors! Not less than five cars found themselves stuck in front of our home as the road curves and begins to climb uphill.
#22 The occasional Midwestern blizzard which allowed for me to practice "random acts of kindness" which involved hot coffee and tea for all those folks the next morning as they returned to dig out their abandoned automobiles!
#23 God's beauty in the form of sunshine reflecting off of the newly fallen snow which sparkled like diamonds! (Notice the Big Wheel which did not get picked up before the blizzard set in!)
#25 Pink cheeks!
#27 "Winter Cupcakes" to celebrate blizzards! (White cake mix, white chocolate chips, homemade vanilla butter cream frosting)
#28 "Snow cones" made with freshly fallen snow and homemade grape syrup!
#29 A reprieve from the winter weather and the random 75 degree day in FEBRUARY!
#30 Rice Cereal.
I can't get enough...fast enough!
Mama needed to get some bibs! Oh the things you forget between babies!