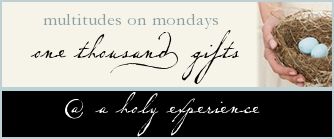 Welcome to Multitudes on Mondays hosted by Ann at
a Holy Experience
where we share those little things in life that matter most...you know, those things that we sometimes take for granted, but what "living in the moment" is really all about.
I look forward to sharing with you each Monday those special blessings from God that make my life so rich...so full.
1. Enjoying the beauty and peacefulness of my Christmas tree and decorations
after
December 25th. As is our family tradition, we do not take down our Christmas decorations until the Feast of the Epiphany or the visit of the Biblical Magi or "Wise Men" to Baby Jesus. Wise men
still
seek Him!
2. Appreciating the wonder and awe in my childrens eyes as they get up close and personal to the Nativity at church each Christmas season.
4. The February issue of
Country Living
magazine. I love all things blue and white.
5. Discovering new blogs!
6. Two wonderful, uninterrupted weeks at home with my kindergartner! My heart breaks just a little when I drop her off at school each day even though I know she's LOVING going to school.
7. Listening to my kindergartner read aloud. It warms my heart...and maybe even heals it just a bit...to hear her reading books to her father and me.
8. Hugs and kisses from my sweet four-year old who loves dressing up in his "Captain" Halloween costume, and that he has worn almost every day since December 26th. My own little personal "Officer and a Gentleman"!
9. Waking up, chest heavy and aching, to the early morning hunger cries of this newest blessing...
10. New week, new month, New Year! Looking forward to all the blessings that 2011 will bring.
Christmas Eve 2010 with my three miraculous blessings!
Wishing you a wonderful week ahead with a multitude of blessings.